NEW Wholesale Copper Cuffs Bangle Bracelets
NON-Magnetic Copper Bangles

NON-Magnetic Copper Bangles Prices:

# PCC-1
($29.70 Dozen)
# PCC-6
($21.60 Dozen)
# PCC-2
($29.70 Dozen)
# PCC-7
($21.60 Dozen)
# PCC-3
($21.60 Dozen)
# PCC-8
($21.60 Dozen)
# PCC-4
($21.60 Dozen)
# PCC-9
($21.60 Dozen)
# PCC-5
($21.60 Dozen)
# PCC-10
($21.60 Dozen)
12 PC. DEAL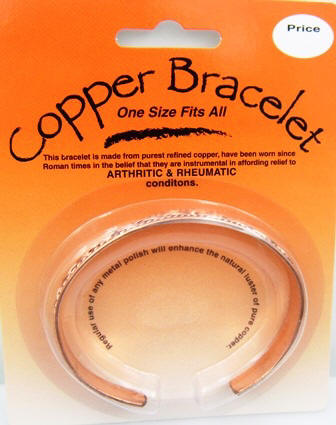 NEW PURE COPPER CUFFS (CARDED)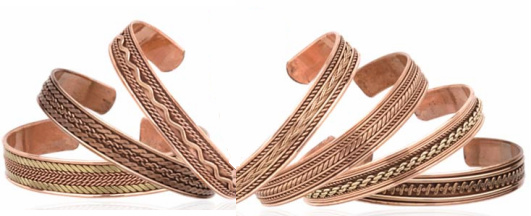 # PCC-300
Pure Copper Cuffs Price $18.00 DOZEN
100 PC. DEAL
NEW 100 PC. PURE COPPER CUFFS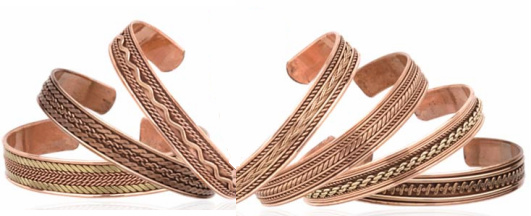 # PCC-100
100 PC. Mixed Pure Copper Bangles Price $144.00/100 PC.
What Is Pure Copper Bracelets ?
TIP For Your Customer: Naturally Pure Copper is Fast Oxidizing Metal, Which Is Very Important Process To Happen If Your Customer Wants To Benefit From Wearing Copper Bracelet, But If Desired Our Pure Copper Cuffs Can Be Easily Cleaned And Shined Again Just By Adding Few Drops of Lemon Juice Or Ketchup On It And Rub It Between Fingers For few Seconds, Rinse With Water, Dry It And That Is All.
Benefit From Wearing Pure Copper Bracelets:
Usually People Benefits From Copper Bracelets When They Worn And Exposed To The Open Air After A Day Or So They Become Oxidized With Some Green Color (Patina) On Them So the Body Can Absorb The Pure Copper.
PURE SOLID COPPER BRACELETS With Magnets
Fast Shipping In 1 Business From USA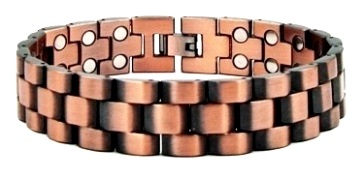 # RCB-001
NEW Original Pure Copper Bracelet With Magnets Our Copper Bracelets made From Lead and Nickel Free Pure Copper Metal if needed the length can be adjusted easily with simple Watch Band Push Pin removal tool

"HOT"

Retail $29.95 OR Wholesale to Dealers only $12.60 each (Minimum Order $85.00)
Fast Shipping In 1 Business From USA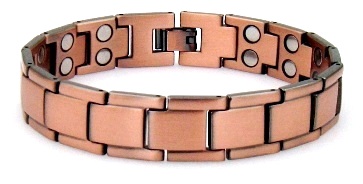 # RCB-002
NEW Rectangles Pure Copper Bracelet With Magnets Our Copper Bracelets made From Lead and Nickel Free Pure Copper Metal if needed the length can be adjusted easily with simple Watch Band Push Pin removal tool

"HOT"

Retail $29.95 OR Wholesale to Dealers only $12.60 each (Minimum Order $85.00)
Fast Shipping In 1 Business From USA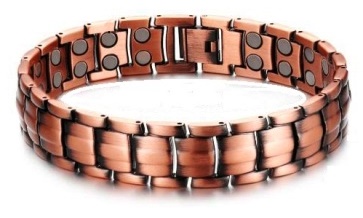 # RCB-004
NEW Pure Copper Bracelet With Magnets Our Copper Bracelets made From Lead and Nickel Free Pure Copper Metal if needed the length can be adjusted easily with simple Watch Band Push Pin removal tool

"HOT"

Retail $29.95 OR Wholesale to Dealers only $12.60 each (Minimum Order $85.00)
Fast Shipping In 1 Business From USA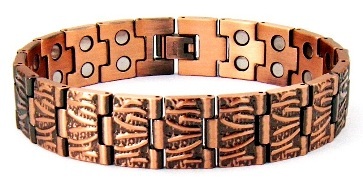 # RCB-005
NEW Pure Copper Bracelet With Magnets Our Copper Bracelets made From Lead and Nickel Free Pure Copper Metal if needed the length can be adjusted easily with simple Watch Band Push Pin removal tool

"HOT"

Retail $29.95 OR Wholesale to Dealers only $12.60 each (Minimum Order $85.00)
Fast Shipping In 1 Business From USA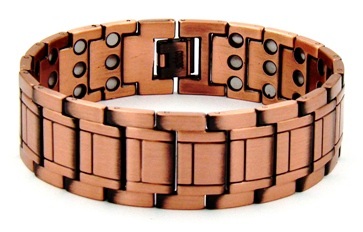 Out of stock
22mm Wide Pure Copper Magnetic Bracelet
NEW Pure Copper Bracelet With Magnets Our Copper Bracelets made From Lead and Nickel Free Pure Copper Metal if needed the length can be adjusted easily with simple Watch Band Push Pin removal tool

"HOT"

Retail $22.95 OR Wholesale to Dealers only $13.60 each (Minimum Order $85.00)
Fast Shipping In 1 Business From USA

# RCB-007
Slim Style
NEW Pure Copper Bracelet With Magnets Our Copper Bracelets made From Lead and Nickel Free Pure Copper Metal if needed the length can be adjusted easily with simple Watch Band Push Pin removal tool

"HOT"

Retail $22.95 OR Wholesale to Dealers only $12.60 each (Minimum Order $85.00)
ALSO
Magnetic Stainless Steel Bracelets